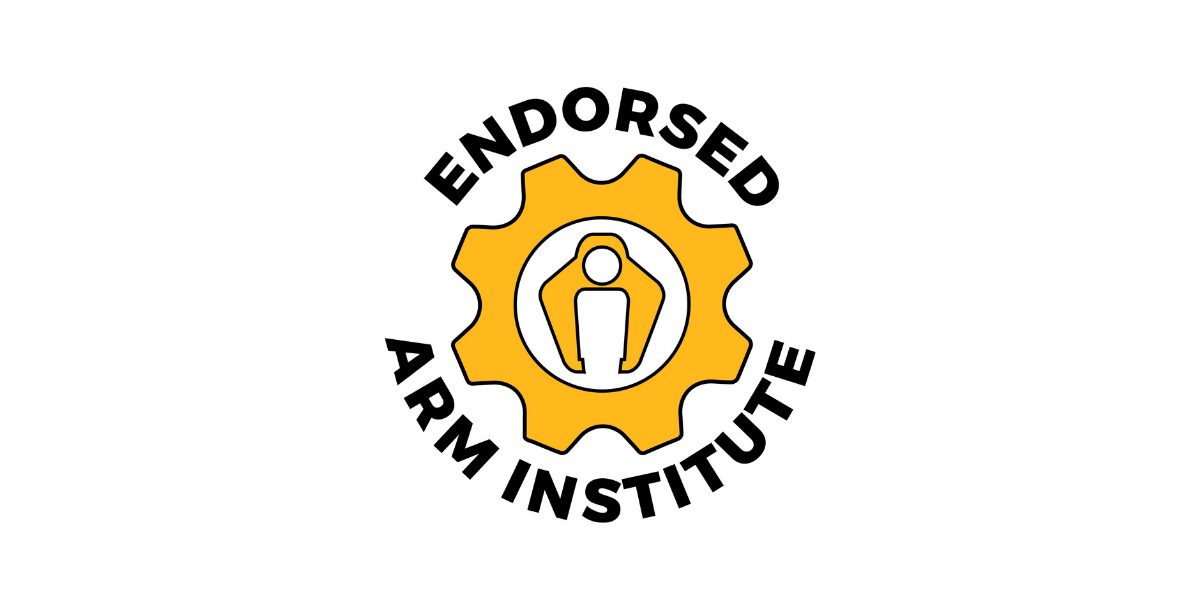 ARM Institute Announces New Robotics Education Training Program Endorsements

The ARM Institute Endorsement process identifies the nation's best training programs for robotics careers in manufacturing.

February 7, 2022 – The ARM (Advanced Robotics for Manufacturing) Institute is pleased to announce that five more programs have been evaluated and selected to receive ARM Endorsement: Graduate Certificate in Engineering in Robotics and Master of Engineering in Robotics from the University of Maryland – Maryland Robotics Center, SMART Robotics Technician Program from Carnegie Mellon Robotics Academy, Mechatronics Engineering Technology and Automation BS from Clover Park Technical College, and NC3 Certification Programs for Robotics, Mechatronics, Advanced Manufacturing, and Industrial Maintenance from NC3. The ARM Endorsement Program was launched earlier this year in conjunction with RoboticsCareer.org, the ARM Institute's national workforce capability that connects education seekers with training for manufacturing careers.

The ARM Institute is the nation's leading collaborative in robotics education and workforce innovation, working at the confluence of industry, government, and academia. Structured as a public-private partnership, the ARM Institute and its 300+ member organizations catalyze robotic technologies and education solutions to strengthen the U.S. industrial base and secure U.S. manufacturing resiliency. The Institute is sponsored by the Department of Defense, and its diverse membership base includes start-ups, research universities, community colleges, manufacturers of all sizes, government agencies, workforce development organizations, and more.

The ARM Endorsement Program is a thorough process used to identify organizations that are the most effective at preparing students for careers in manufacturing working with robotics. This program was conceptualized and created through the ARM Institute's 300+ member national consortium, giving equal voice to the need of manufacturers, education providers, and government stakeholders.

The criteria used to evaluate programs aligns with the ARM Institute's robotics career pathways and competencies and evaluate both organizations and their programs based upon the following benchmarks:

Relevance to the Industry

Effective Curriculum

Efficiency of the Training

Impact of the Program

Program Sustainability

Transportability



To reflect the importance of a diverse education ecosystem, programs of all formats can apply for ARM Endorsement, from high schools and programs from robot suppliers to community colleges and traditional universities.

Each of our newly endorsed programs exceeded our evaluation criteria. Learn more about each program below and on RoboticsCareer.org:

University of Maryland – Maryland Robotics Center: The Master of Engineering in Robotics program and the Graduate Certificate in Engineering program ensure continued research and development of robotic applications and contributes to the overall robotics ecosystem. The instructors are top-notch professionals, allow for innovation in the program curriculum, attract industry and diverse students, and the curriculum examples show the level of knowledge, skill, and ability that graduates hold upon successful completion of the programs.

Carnegie Mellon Robotics Academy: The CMRA SMART Robotic Technician I program is truly grounded in actual application and students learn through discovery and hands-on modules. The curriculum is adaptable for both high school and entry-level industry employees. The training program for teachers that implement the SMART program is best-in-class and ensures that teachers continue to remain current in these technologies.
Clover Park Technical College: program aimed at assisting industry by providing a knowledgeable workforce that can bring new and emerging ideas into fruition throughout industry. The Mechatronics Engineering and Technology program is truly a best-in-practice program that attracts students to industry and prepares them for the life-long learning that will be required of their generation as technology continues to exponentially change and grow.

NC3: The National Coalition of Certification Center's Certification Programs for Robotics, Mechatronics, Advanced Manufacturing and Industrial Maintenance provide students with the in-depth knowledge, skills, and abilities needed for success in today's manufacturing workplace. Each section of the program provides hands-on instruction with certified instructors providing a level of competence in every graduate of the program.

"The entire ARM Team congratulates our newly endorsed programs," stated Lisa Masciantonio, ARM Institute Chief Workforce Officer, "The diversity of our Endorsed programs reflects the ample education and training opportunities that exist for manufacturing careers working with robotics. There are programs that give education seekers the industry skills they need in a variety of formats, award types, and program lengths."

Since introducing the Endorsement Program earlier this year, the ARM Institute has endorsed five programs in addition to those mentioned herein: Community College of Allegheny County (CCAC), Horizon Science Academy Columbus High School (HSA), the Fortress Academy, the University of Washington, Universal Robots, Wichita State University Campus of Applied Sciences and Technology (WSU Tech), and Wichita State University, Department of Engineering Technology.

Endorsed programs are highlighted on RoboticsCareer.org, the ARM Institute's national workforce capability that connects education seekers with training programs aligned with the Institute's defined robotics career pathways, including programs like robotics technician training. Today, RoboticsCareer.org has more than 12,000 programs representing more than 1,900 organizations from across the United States and U.S territories. It includes programs ranging from high school STEM and micro-credentials through PhD degrees, delivered onsite, online or in hybrid formats.
ABOUT THE ARM INSTITUTE
The ARM (Advanced Robotics for Manufacturing) Institute is a Manufacturing USA® Institute sponsored by the Office of the Secretary of Defense under Agreement Number W911NF-17-3-0004. The ARM Institute leverages a unique, robust, and diverse ecosystem of consortium members and partners across industry, academia, and government to make robotics, autonomy, and artificial intelligence more accessible to U.S. manufacturers large and small, train and empower the manufacturing workforce, strengthen our economy and global competitiveness, and elevate national security and resilience. Based in Pittsburgh, PA since 2017, the ARM Institute is leading the way to a future where people & robots work together to respond to our nation's greatest challenges and to produce the world's most desired products. For more information, visit http://www.arminstitute.org and follow the ARM Institute on LinkedIn and Twitter.