Isaac Gould and Jillian Adams are both recent graduates of Penn High School paving the way for younger students interested in robotics. Penn Robotics, based out of Penn High School in Indiana, is a student-led robotics team. The team members' work mostly occurs in a robotics class during the school day, though there are extracurricular components as well. Penn Robotics as a class also provides students with the opportunity to earn college credit. Isaac and Jillian were both interested in robotics from a young age. Coincidentally, Jillian participated in Penn Robotics-led youth summer camps as a kid. Isaac's interest was fostered by watching his uncle join Penn Robotics in 2008, when Isaac was still very young. This illustrates that exposure to robotics from an early age is fundamental, as it can pave the way for a lifelong hobby or career.
A Variety of Skills Contribute to the Team's Success
Jillian and Isaac's roles on the team are quite different, but integral to everyone's overall success. Jillian learned overtime that her strength and preference lies in outreach. She initially began her robotics journey as an engineer, but later spent most of her time submitting Penn Robotics for various FIRST Robotics awards. In this role, Jillian also wrote about the team's impressive outreach efforts. FIRST Robotics Competitions let students take advantage of different interests, as Jillian points out, "people with interests in media, or business, can find a home where they can build their skills within our robotics program". In a full circle moment, she also helped to organize the same summer camps that she attended as a kid. Isaac on the other hand started out and remained mostly involved with the mechanical side; he ran the mission engineer team and helped to create technology for kids with disabilities.
Beyond the summer camp Penn Robotics runs, there are also fall and winter weekend workshops, and a newer program they created called Short Circuits. With this program, they worked with all eleven elementary schools in the district and taught third graders basic programming, while emphasizing the fundamentals of teaming. It's a great thing these students are learning this so young, as computer programming is a technical competency that falls under the ARM Institute's framework for robotics careers. Not only this, but the ARM Institute has identified teaming as an essential skill relevant to robotics careers as well. Isaac shares that Short Circuits began because they "saw need for a STEM program for the elementary schools in the district". They took this identified gap to the school board, and successfully presented their idea for Short Circuits.
Making it to Worlds'
The Penn Robotics high school team made it all the way to FIRST Worlds' Competition in Houston. Something that makes FIRST Robotics different than other competitions, is the emphasis they place on outreach, with the ultimate goal of improving the culture around science and technology, especially for underrepresented groups. On this, Jillian shares, "the awards that we submit for don't have anything to do with the robot we're building; they're just about the outreach we do". In fact, one of the most prestigious awards of the competition is outreach-focused – the FIRST Impact Award. This award honors the team that best represents a model for other teams to emulate and embodies the mission of FIRST. And their team won this award at the district and state level! Below is a photo of the team, elated after their victory.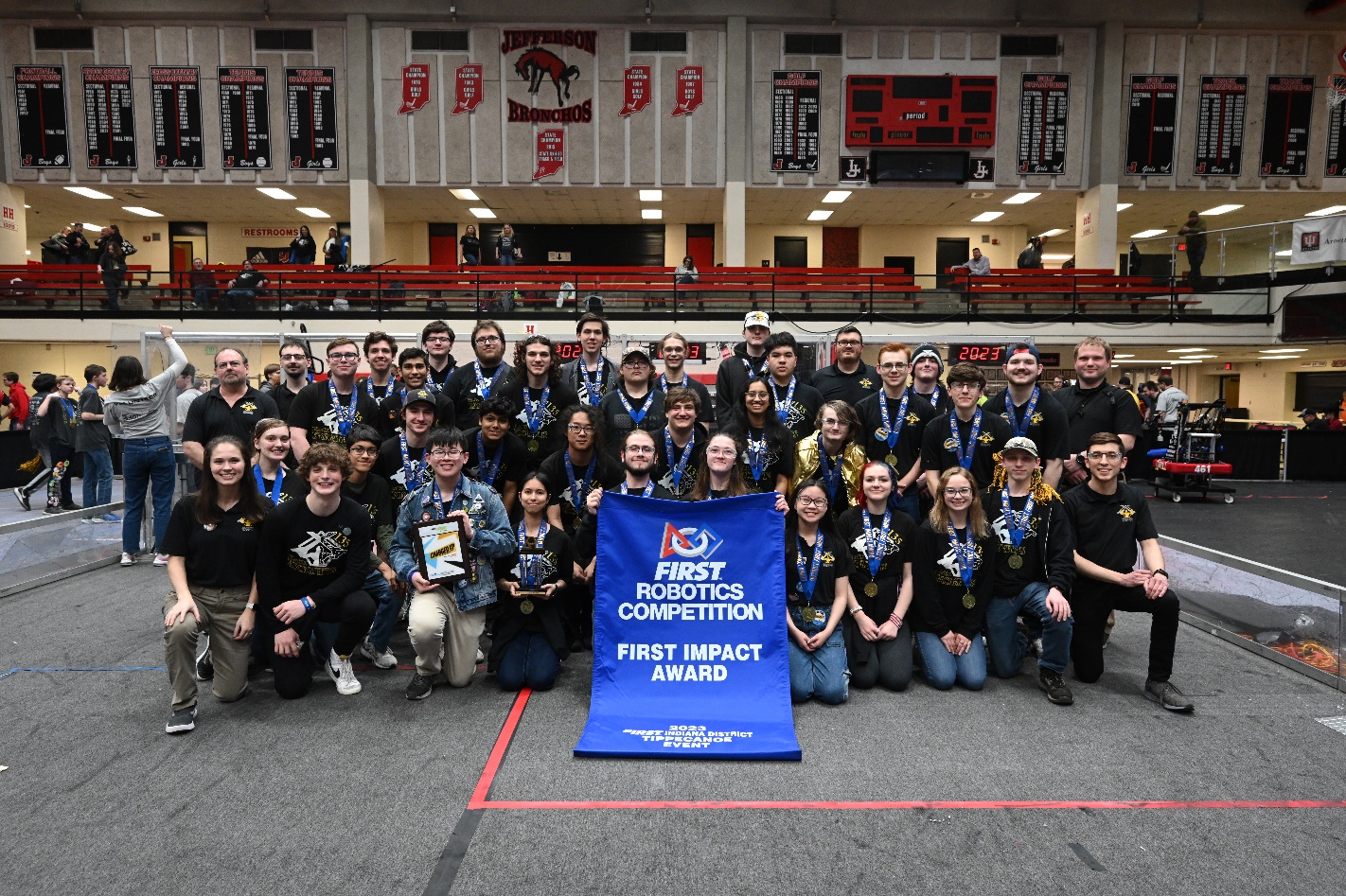 The team's journey to Worlds' was all thanks to the major impact they make on surrounding communities, and they were so excited to participate. Isaac shares, "It was a very unique experience… probably once-in-a-lifetime for me." He particularly enjoyed getting to see so many world-renowned robotics teams in one place. The pride they both have for the work they've been doing is evident when Jillian mentions that Penn Robotics hasn't made it to the Worlds' level of FIRST since 2017. On this, she says, "It's so inspiring to see that the work we've been doing for the past several months has culminated in making history for us."
What's Next?
Having just graduated, Jillian and Isaac are about to arrive at the next pivotal chapter in their lives. They both have plans to attend Purdue University and step into fields outside of robotics, but it's clear that the skills they have learned over the years will stick with them forever. Jillian will be studying business management but has every intention of remaining involved with FIRST Robotics as a volunteer. Isaac, on the other hand, will be going for biochemistry.
When asked about the challenges of getting more young people, especially underrepresented groups, interested in robotics, Jillian and Isaac agree that involving them as young as possible is key. Going back to Short Circuits program they developed, Jillian has observed at these camps that at younger ages, participants don't notice differences among peers. There isn't yet a sense of not belonging; the young students are simply excited to be challenged. From Isaac's perspective, consistency is equally crucial. Gaining their interest early on is necessary, but continuing to provide accessible opportunities in the robotics field and maintaining their interest is what will help funnel these students into related careers.
RoboticsCareer.org as a Resource
One day, these young students will be thinking about what comes next, and the ARM Institute's free national resource, RoboticsCareer.org, will be there to support that journey. With a database of over 16,000 robotics training programs, as a user they can set filters based on what they're looking to learn and receive personalized matches. Alternatively, they can leverage the technical competencies and essential skills they've learned over the years, such as computer programming, teaming, and leadership, to search and apply for job listings. Isaac and Jillian may be stepping outside of the robotics field for now, but they are excited to see what this resource can do for their generation and the next.