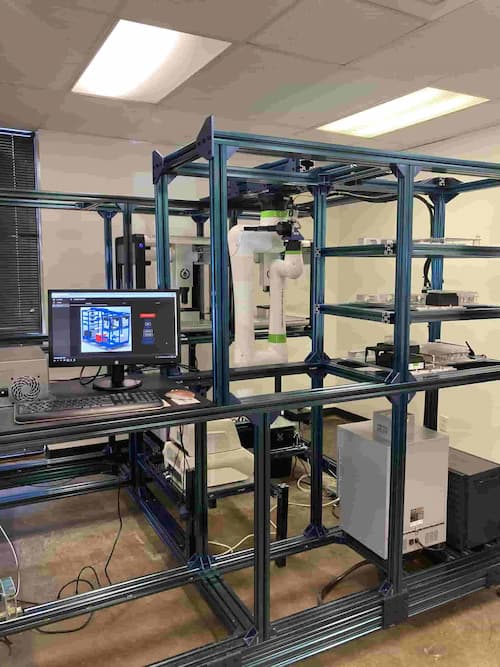 CREDIT: WILDER SYSTEMS
As the COVID pandemic swept the world, heroes stepped forward to combat the virus on the front lines. They came in a lot of different forms, from healthcare workers to scientists, public servants, grocery store employees and more. In many cases, these heroes were assisted by advanced robots, proving yet again that human ingenuity is up to the task, whatever that task may be.
Let's take a look at just some of the ways that robots have helped us against COVID.
Ultraviolet Robotic Solutions
UV light disinfection studies have shown that the technique is effective in killing the Coronavirus through exposure on various surfaces. This technology has been getting a lot of use in public buildings with high traffic like medical clinics and office buildings. In these environments, the UV light is used to disinfect counters and door handles. However, there are plenty of areas that are unreachable with a human arm like deep cabinets or small spaces, allowing the virus to thrive and pose a threat.
Enter the Agile Dexterous Autonomous Mobile Manipulation Systems, or ADAMMS for short. This robot was designed by a team of USC Viterbi School of Engineering students and professors to aid people in everyday tasks like opening doors or carrying heavy items. In the pandemic, the team saw an opportunity to put the robot to use on the front lines by adding a 6-jointed arm waving a UV light wand at the end. The ADAMMS is now a fully-capable disinfecting machine, able to reach difficult spaces.
Testing with Robotics
One of the biggest challenges with COVID testing has been the insufficient personnel to handle sample analysis and provide test results. In many cases, people were waiting longer than a week to get their test results, ultimately making the tests pointless. Wilder Systems has developed a solution to this problem in the form of a robotic cell aimed at increasing the speed and efficiency of COVID-19 testing through automation.
The system itself features a 7-axis robotic arm, robotic liquid handlers for collection, tube plating, polymerase chain reaction testing prep, an analyzer, and a hazardous waste bin, all controlled through software rather than manual operation. This innovation of robotics can run up to 2,000 tests per day, a 7x increase over typical small laboratories, and it provides results within 24 hours!
PPE for All
A project team including Henderson Sewing Machine Company, Yaskawa Motoman, HomTex Inc. and Siemens Corporation has banded together to address the shortage of PPE through robotics. The project, titled Rapid PPE Production through Automation & Robotics (RAPPAR), aims to speed up the production, testing, and packaging processes by utilizing robotics automatic visual inspection, picking-and-sorting, and end-of-line packing and palletizing of masks. This will help address the long lead times currently facing mask distribution in the U.S.
At the ARM Institute, we have even more exciting projects with a total of $8 million to bring to fruition.
All of these are just a handful of examples of how robots are aiding us in fighting back the spread of the Coronavirus. Even post-COVID, these advances in robotics technology will continue to aid us in recovery and beyond.